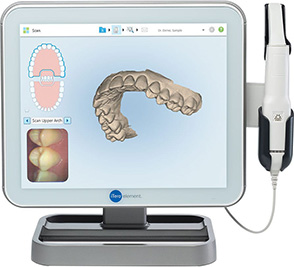 Want to see what your smile will look like before you start orthodontic treatment? You can with Dr. Shefferman and the iTero® Outcome Simulator! Dr. Shefferman is one of only a handful of orthodontists in the Washington, DC area to utilize iTero's Outcome Simulator. It is part of our commitment to staying ahead of the curve when it comes to advanced technology and improved patient experience.
Experience the Outcome Simulator for Yourself!
With our Outcome Simulator, you will not only be able to preview your finished smile, you'll also see the movements your teeth will make to get there. You'll also see the dramatic side-by-side comparisons of your current smile and your simulated smile.
Dr. Shefferman can modify your smile by making it broader or changing the shape of a tooth right in front of your eyes.
You'll be able to see your smile simulation during your first consultation, so you can make an informed decision about your treatment without committing to anything first.
Your smile simulation will be available within minutes and is yours to keep, allowing you to view all angles of your smile, zoom in and out, and see before and after images, all from the convenience of your home.
The best part of the Outcome Simulator? It doesn't require goopy, uncomfortable impressions! Our iTero scanner takes high-resolution images of each tooth to produce an accurate, detailed digital impression.
The Outcome Simulator allows us to show you exactly how your smile will look, answer all your questions, and give an accurate preview of what you can expect your smile to look like. It's nothing less than what you deserve when it comes to your smile! Ask Dr. Shefferman about it during your initial consultation!