Invisalign® for Teens in Washington, DC
The Experts in Invisalign Treatment for Teens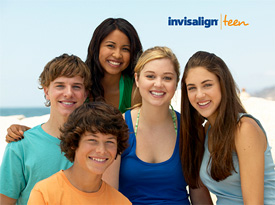 At Shefferman Orthodontics, we are the Washington, DC Invisalign Experts! Dr. Shefferman is a Top Invisalign Provider, and has been a specialist in orthodontics for years. We are highly dedicated to providing amazing orthodontic experiences and creating smiles that we know our teens deserve. We won't stop until you are satisfied and happy!
With Invisalign treatment for teens, you can smile with style and confidence!
Invisalign for Teens offers convenient, aesthetic orthodontic treatment for our younger patients. The clear aligners will allow you to show confidence and high self-esteem whether you are at school, playing sports, or with friends. The cost and effectiveness is the same as braces, and it eliminates drawing unwanted attention from metal braces.
Dr. Shefferman will thoroughly examine your smile to ensure that you are a perfect candidate for Invisalign Teen. We will also take digital photos and a 3D iTero® scan to develop your ideal treatment plan.
When you start your Invisalign treatment, you will receive a set of clear aligners created with the Invisalign system's proprietary SmartTrack material. You will wear the aligners for 22 hours per day, but can easily remove them so there are fewer interruptions to your lifestyle.
Once in treatment, you'll visit our Washington, DC orthodontic office every eight weeks. We also offer virtual checks through Zoom and Facetime to minimize your in-office visits.
Our staff is here to assist you with keeping track of your aligner count and treatment progress.
Eliminate unnecessary years of orthodontic treatment!
For adults and teens, Invisalign treatment length depends on each individual's needs. On average, our teens are done with treatment within 12 to 18 months as long as you follow all the directions we give you about appliance wear and oral hygiene.
Make your treatment a success!
Invisalign treatment will affect your life for years to come, so remember to stay compliant, and continue to embrace your progress. To ensure that treatment is completed within the planned time and your results are optimal, maintain excellent oral hygiene and wear your aligners as instructed.
At Shefferman Orthodontics, we're experts in Invisalign for Teens! Contact our Washington, DC orthodontic office to learn more about Invisalign for Teens, and start your journey to a smile with style!
See What Other Teens Are Saying:
Connect with other teens to share your Invisalign Teen experience and find out what other people have to say about their treatment.