COVID-19 Update in Washington, DC
We are open and accepting appointments for both existing and new patients!
To help prevent the transmission of respiratory infections, including COVID-19, we adhere to standardized infection control measures! We follow routine cleaning and disinfection strategies, along with appropriately sterilizing all of our tools and equipment.
While our office already adheres to standard precautions, there are several procedures we are implementing to prevent the spread of COVID-19:
Screen patients for signs or symptoms of infection when visiting the practice.
Ensure our masks, gloves, and eye protection equipment are appropriate for the procedures performed.
Clean and disinfect public areas frequently, including door handles, chairs, and restrooms.
Temperature checks when arriving to the office.
Place air purifiers in the lounge and treatment areas.
Provide hand sanitizer throughout the office.
If you have an appointment scheduled within the next couple of weeks, please contact our office if you experience any of the following:
Fever or chills
Cough
Shortness of breath or difficulty breathing
Nausea or vomiting
We work to minimize the amount of time you spend in the waiting area, and implement a maximum number of patients who are allowed in the office at a given time. We have a outer foyer where you are welcomed to wait, after you have checked in for your appointment.
How can you prevent contracting or spreading COVID-19?
Wash your hands frequently with soap and water for at least 20 seconds.
Maintain at least six feet of distance between yourself and others.
Avoid touching your eyes, nose, and mouth.
Cover your mouth and nose when sneezing or coughing. Do not use your hands!
Stay home if you feel unwell.
For more information about what you can do to prevent the spread of COVID-19, please visit
https://www.who.int/health-topics/coronavirus#tab=tab_1
Most orthodontic problems can be handled at home.
Please see the Frequently Asked Questions (FAQs) at the BOTTOM OF THIS PAGE.
---
We do have the capability to perform Virtual Consultations, for anyone who is interested.
Please watch the following video to learn more.
---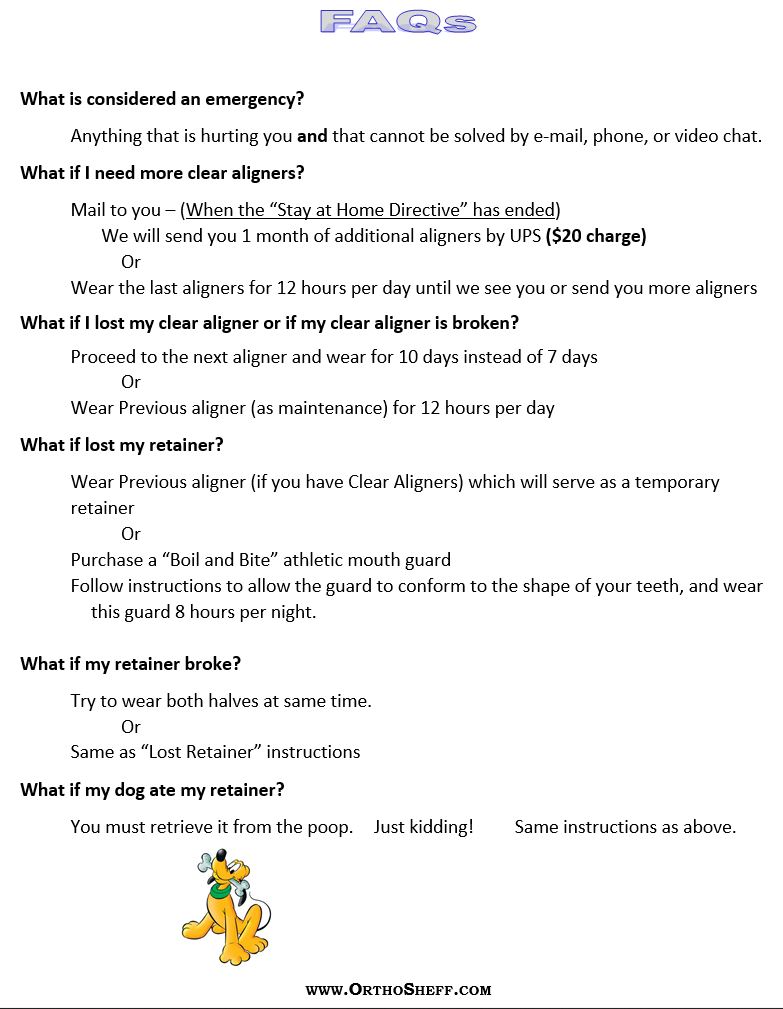 ---
Link for "Boil & Bite" mouthguards
https://www.amazon.com/ConfiDental-Moldable-Clenching-Whitening-Including/dp/B075FV78W8?ref_=ast_bbp_dp